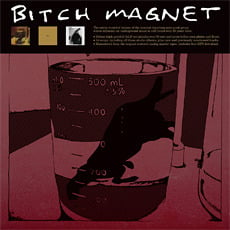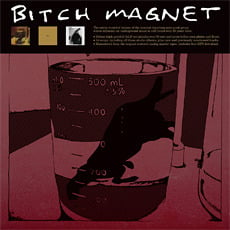 Bitch Magnet - 'Bitch Magnet' 3xCD
by Bitch Magnet
$25.00
The remastered and repackaged reissue of the legendary Bitch Magnet's seminal and critically acclaimed three albums - Star Booty, Umber, and Ben Hur.
The deluxe 3xCD package include all three albums, plus more than a half dozen rare and previously unreleased tracks, a total of 34 songs, remastered from the original, restored analog master tapes.
Bitch Magnet was formed at Oberlin College in 1986. Immediately following the release of its debut Star Booty in 1988, the band garnered rapturous reviews and established itself among the top-tier of America's independent music underground.
The band's reputation continued to grow with tours of the US and Europe, and the subsequent releases of Umber (prominently included by Mojo on its list of "Lost Albums You Must Own") in 1989 and Ben Hur in 1990. The latter two have been frequently cited as a key inspiration for what would become known as "post-rock," a term that baffled and amused the members of Bitch Magnet when it first surfaced, and still does today. Along with their contemporaries in Slint, in the years following their breakup, Bitch Magnet has been recognized as a significant influence on generations of aggressive and musically complex bands, including Don Caballero, Mogwai, Rodan, June of 44 and Battles.
TRACK LISTING
DISC 1 - BEN HUR +:
1. Dragoon
2. Valmead
3. Ducks and Drakes
4. Mesentery
5. Lookin' At The Devil
6. Gator
7, Spite y Malice
8. Crescent
9. White Piece of Bread
10. Sadie
DISC 2 - UMBER +:
1. Motor
2. Navajo Ace
3. Clay
4. Joan of Arc
5. Douglas Leader
6. Goat-Legged Country God
7. Big Pining
8. Joyless Street
9. Punch and Judy
10. Americruiser
11. Motor (Alternate Mix)*
DISC 3 - STAR BOOTY +:
1. Punch and Judy (Alternate Version)*
2. Joan of Arc (Alternate Version)*
3. Big Pining (Alternate Version)*
4. Joyless Street (Alternate Version)*
5. Sadie (Alternate Version)*
6. Carnation
7. C Word
8. Sea of Pearls
9. Hatpins
10. Knucklehead
11. Circle K
12. Polio
13. Cantaloupe
* Previously unreleased